Fusion Plumbing services in Penrith specialises in professional plumbing for domestic, industrial, and commercial customers across the region. We provide all types of plumbing services, from fixing blocked drains to repairing cracks in pipes, hot water system installations to gas fitting and leak detection – when it comes to plumbing, there's nothing Fusion can't do!
Emergency Plumbing Penrith
There are many reasons you might need emergency plumbing Penrith, which is why we offer our services 24 hours a day, 7 days a week to residential and commercial clients. Fusion Plumbing is specialists when it comes to blocked drains or toilets, burst pipes, leaking roof, stormwater overflow and much more. We're fast and affordable, and we are ready to respond to your requirements as soon as you need us. Our emergency plumbing services in Penrith cater to all types of plumbing, drainage, and gas emergencies.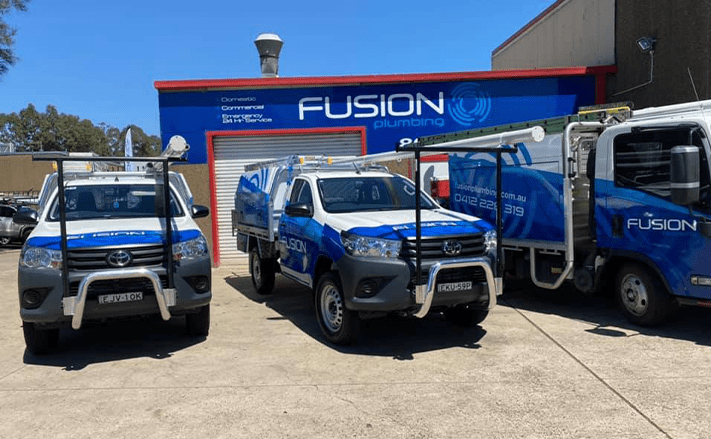 The only thing worse than a clogged toilet is an overflowing one – and if you don't fix the blockage right away, you could be faced with dirty water all over your carpet and tiles. Blocked drains aren't just associated with your toilet though and they can occur throughout the building, inside and out. If the kitchen sink isn't draining water as fast as it usually does, the shower is building up into a bath when you have the water on, or it could be that your roof is overflowing during a storm – whatever the cause, you require a block drains specialist in Penrith.
Predominantly seen in commercial, agricultural, and industrial properties, backflow prevention is essential if you want your mains water system to remain clear from pollution. As a residential property owner, however, backflow prevention is less common. How do you know if you need the device? If you have a culinary water connection – you need backflow prevention. Backflow is when your normal direction of water flow is reversed, usually from a burst or ruptured water main, or due to excessive demand. If your drinking supply is connected to this backflow through cross-connection, these pollutants can enter the water supply and can be harmful to your health. If you want to prevent backflow, you need to ensure that your protection device is installed, maintained, and inspected properly. At Fusion Plumbing, we provide backflow prevention installation and repairs in Penrith and beyond.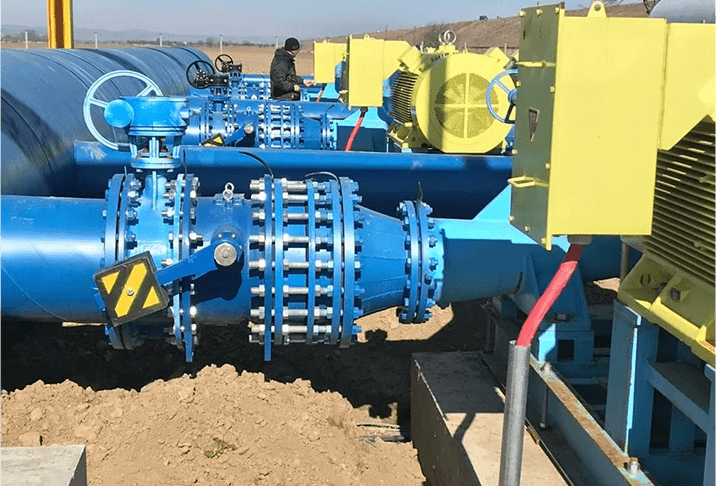 Pumps & Irrigation
If your pumps and irrigation are not working effectively, it can create problems for your entire property. At Fusion Plumbing, we provide a range of pumps and irrigation services to Penrith customers, including water-efficient pump and irrigation products, installation, maintenance, and repairs. Our technicians ensure you get water where you need it. Whether you need help with your residential pumps and irrigation, for commercial, industrial, or agricultural projects, we can assist. Broken pumps and irrigation can lead to dehydration of your crops or plants, which in turn could lead to loss of income or livestock; or it could simply mean your garden doesn't thrive for the local Garden Show. Whatever your reason for pumps and irrigation, call us to assist.
Fusion Plumbing provides our residential plumbing Penrith customers with a range of services, including pipe laying at new home builds, re-routing of pipes and drainage for renovations, and backflow prevention where required. We also provide inspection services for any strange smells or noises you might be experiencing with your pipes and drains, as well as aerator checks for showers and faucets, toilet inspections, and hot water system servicing, provision, and replacement. When it comes to residential plumbing, there's nothing we can't do. We're even available for emergency plumbing in the home, 24-7.
Developers working on commercial projects, renovations and fit outs all require extensive plumbing installation services. At Fusion Plumbing, our commercial plumbing Penrith team provides all the supplies and services you need to ensure your plumbing system is operating effectively. We not only install plumbing, but we also upgrade your old system where necessary, fix your leaking or busted pipes, install, and repair hot water systems, and clean out clogged drains. As a business owner, we know how important it is that your commercial space is operating to full capacity and your plumbing plays a major part in that. Get in touch to find out more.
Industrial plumbing systems are probably some of the most complex systems we've ever had the pleasure of working on. They generally have higher grade pipes and fixtures, and they are often at a greater risk of damage compared to residential and office plumbing. Therefore, it's imperative that if you need industrial plumbing Penrith, you contact a company that knows what it is doing – like Fusion Plumbing! We install plumbing systems for new developments or renovations; can repair and detect leaks and blockages and provide new pumps and pipes where needed. Our backflow protection will take care of your drinking water, while routine maintenance works great as a preventative measure.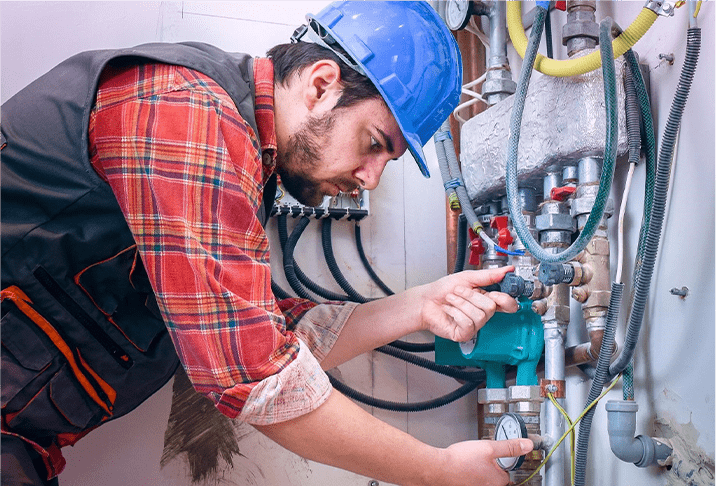 New Home Plumbing Penrith
When building a new home, there is a lot you need to consider – and plumbing is probably one of the most important aspects. If your pipes and drains don't match up, your home is at risk of flooding and long-term damage, so it's important that when planning your new home, you get the plumbing right. The new home plumbing Penrith team at Fusion can ensure your plumbing meets all Australian standards – and that your plans fit well with the home! We can install and supply a range of products, from your bathroom and kitchen plumbing, through to rainwater catchments, gutters and downpipes, gas and hot water services, and septic systems and sewer extensions.
If your hot water system isn't working up to scratch, it could be time for an upgrade! Whether you're after solar, heat pump, electric or gas, we provide a range of options when it comes to hot water systems. Each system is designed to suit a different property type and size, so we can give you the right advice for a system to suit your requirements. Our hot water systems Penrith installations team understand how hot water systems work, and can assist if your water is too hot, too cold, or not working at all! We repair hot water systems, so if you notice something wrong with your system, get in touch.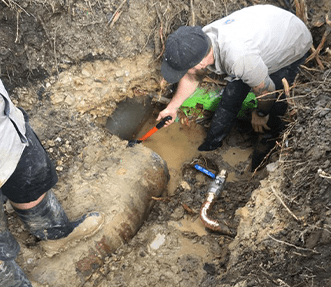 Leak Detection Penrith
Leaks in your pipes might not seem so serious, but it's where they lead that can create havoc on your property. Whether you have a commercial, industrial, or residential property, if you suspect there could be a leak in your pipes, call our leak detection Penrith team to come and lo. Signs that you might be experiencing a leak include bad smells, mould or mildew coming from the walls or flooring, damage or discolouration, or the obvious sign of water gathering where it shouldn't. If left to fend for themselves, leaks create bigger problems – and in turn, can cause major water damage. Fusion Plumbing can help.
One of the most important parts of the groundwork for any development, pipe laying comes with many challenges, so it is important when pipe laying in Penrith, you hire a professional. Pipes need to be durable, of great quality and they need to be fitted the right way; otherwise, you could lose money (or your home or business). You need to ensure the pipes meet all the local regulations, rules, and requirements; suited to residential, commercial, and industrial projects of all sizes. At Fusion Plumbing, we provide pipe laying services across the region. We're trusted, fast and reliable.
LPG & Natural Gas Fitting
From repairing gas ovens to detecting leaks, Fusion Plumbing is available to assist with all your LPG and natural gas fitting services in Penrith. We are fully licensed and certified by the Plumbing Industry Commission, and we have many years of experience helping homeowners and businesses with all their gas fitting needs. We will ensure your system is 100% compliant and if necessary, we can provide certification paperwork for the gas authority and property owner. When it comes to gas fitting with Fusion, there's no such thing as poor installation.
Why Choose Us For Plumbing Services Penrith?
If you're looking for quality plumbing services at Penrith, there are a few things you need to know about Fusion Plumbing. Firstly, we're not messy, unlike other plumbers. We'll clean up our mess before we leave. We have years of experience and we know the industry. We stay up to date on the market, and we use the latest technology. We're fast, efficient, and affordable. We also offer free, no-obligation quotes and provide emergency plumbing, 24 hours a day, 7 days a week.
Apart from these reasons, we have so much more to offer at Fusion Plumbing. And we are delighted to share these things with you below.
Fully Licensed Plumbers: You can always trust our plumbers for your plumbing issues in Penrith. They have undergone every necessary training module and thus, can effectively fix your problems.
Certified Technicians: For hot water system installations, you need someone with proper training and certifications. At Fusion Plumbing, we have a team of certified technicians who can install and provide maintenance service for hot water and gas fitting systems.
Full Stocked Van: Not only do we quickly arrive at your doorstep, but we also come fully prepared. Our plumbers in Penrith carry every plumbing tool in the transport vehicle. So, you can expect us to fix your problems before the end of the day!
No-Obligation Quotes: You don't have to sign up for our services if you don't like them. We provide quotes with zero obligation to our customers. Thus, you can look for other plumbers in Penrith after getting a quote from Fusion Plumbing.
No Hidden Charges: We passionately believe in transparency while providing services across Sydney. You will find no hidden charges for our services.
So, we don't see any reason for you to look for other plumbers in Penrith. We have everything that you need, from plumbers to supplies and cost-effective services to excellent customer service.
Get in touch today.
Do you offer a preventive maintenance plan?
Yes, we do. Fusion Plumbing understands the significance behind regular plumbing maintenance. And thus, you can call our plumbers in Penrith for preventive maintenance plans for your home anytime you want.
We will schedule a plumbing maintenance plan for you. So you can carry on with your life without worrying much about the plumbing system.
Do you do small general plumbing jobs?
Sure we do. You can call us for any kind of plumbing job, regardless of its scale.
It doesn't matter if it's a small leakage in the bathroom or clogging of the drain pipes. You can always rely on our services!
Our plumbers in Penrith would rush to your house immediately. And our prices are reasonable too. Call us now and get a free quote today!
How much does leak detection cost?
Water leakage can become a problem in the long run, and thus, it's advised to call a plumber immediately for its detection. Fusion Plumbing has a team of plumbers that are highly capable of detecting any water leak in your home.
More importantly, we don't charge a high price for any of our services, including leak detection.
Get a free quote today from our reliable plumbers!
Do you provide emergency advice over the Phone?
Yes, our team will talk with you on the phone and give you a few valuable tips that you can implement till our plumbers arrive at your home.
We will arrive at your residence within a few minutes. We are available 24/7 for quick callouts!
Are you open during weekends and public holidays?
We are available 24/7 for our customers including on weekends and Public Holidays. You can call us anytime, and we will quickly arrive at your doorstep fully prepared. If you want to know about our availability on public holidays, you can talk to our plumbers in Penrith today.
Call Fusion Plumbing and get our working schedule right now!