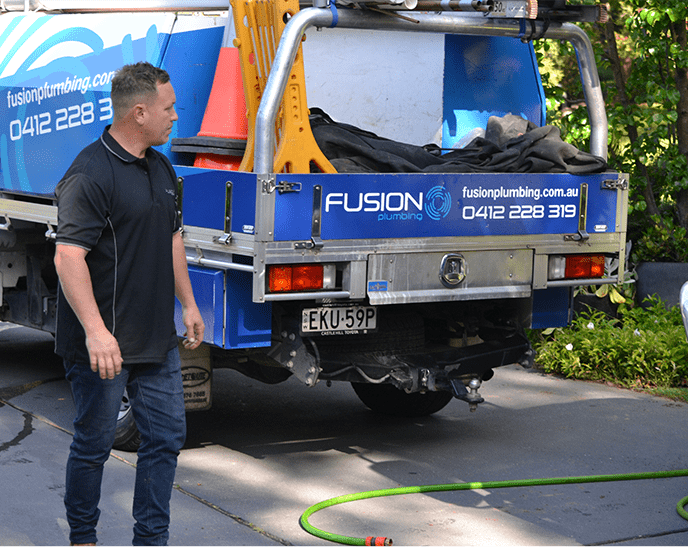 Kevin became a fully licensed plumber over a decade ago and over the ensuing years gained invaluable experience before launching his own business in 2006.
We are a team of five fully licensed tradesmen who bring years of knowledge to each job.
That means we can quickly analyse and provide a practical solution to whatever it is you need doing at your home, office or workplace.
We offer a variety of services, from fixing leaking taps and toilets to dishwasher repairs, sewer conversions, gas pipe fitting and any general maintenance work.

From the very first contact with us we are Professional. We listen. We arrive when we say we will. We offer up-to-date practical solutions. We are respectful of your property. We consider your needs and requirements at all times.

Because we keep up with industry and legislative changes you can be totally confident that all the work we do at your home or workplace will be of the highest quality while adhering to all regulations. We don't settle for 2nd best as our regulars can attest to.

Our experience and efficiency ensures our prices are competitive and affordable. We don't waste time and time is money. We believe in getting stuck in and getting out of your hair which causes the least disruption to you and keeps prices down.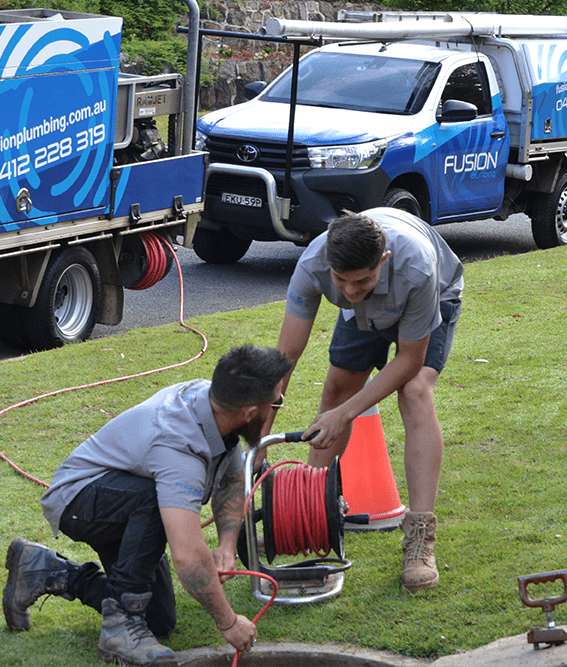 Ryan did an amazing job to fix my storm water drain pipe. He was prompt, professional and very friendly. I highly recommend Fusion plumbing!
Vijay Bhaskar

Many thanks to Kevin and Ryan for their swift response to my call today to have our Hot Water tank repaired. If you are looking for a Professional Plumbing Service give Fusion a call.
KEVIN LAUGHTON

We used Fusion Plumbing for some major plumbing works - new taps and shower heads (they even straightened our vanity for us), repair water heater, blocked and broken pipes (huge job!). All of the team were very helpful, straightforward and lovely guys. We received prompt and quality service, and were very happy with the invoice at the end of the works. Definitely recommend to anyone needing any plumbing service. We will always be using Fusion for any future jobs.
Stephanie

Can't thank Fusion Plumbing enough - we have had such a great and easy experience with them. All of the team have been completely professional with all of our dealings. Nothing was too hard or too much of a problem for them. They were more than happy to take on much more than we anticipated the job to be. We appreciate their service and will continue to use them. Thank you!
Amanda Clements

THANK YOU, called @ 11, told me someone should be there around 1, arrived right on time. Did the job and made sure all was good before leaving. Didn't attempt to gouge on price. I would highly recommend
Tanja Ploy

Ridiculously quick, even if they were local to us. From the initial call to enquire about a leaking tap and same day service to the completion of the repair and me writing this review, it took around 2 hours. If you're local and after an urgent call, call these guys.
Pez

I've been using the services of Fusion for many years at my business and also at my home & I can truly say they are amazing! Kevin and his team have always provided me with the best possible solutions at the right price. Recently I had the most wonderful experience when Kevin sent a couple of his guys to my house to remove and replace a downpipe on my garage, Ryan in particular was so professional and courteous and he spent so much time making sure he'd done everything perfectly for me ! I would have absolutely no hesitation recommending this great company for any plumbing requirements at all . Thanks Fusion and keep up the great work & amazing customer service Ryan 😀
Colette Juby

Called fusion plumbing for toilet repair, very friendly and professional bloke. Quick and efficient. Charged no money which was pretty surprising given the labour cost in Sydney. Will highly recommend and definitely call them for all my plumbing needs.
Mirza Hamza Baig

It has taken some time to find professional plumbers whose workmanship is truly great. Kevin always responds to our needs quickly and when Ryan arrives we know the job will be done professionally and in the most efficient manner. I would highly recommend Fusion plumbing for anyone searching for a great plumbing service.
White White

Ryan from Fusion plumbing is an absolute legend. He was at the right place at the right time. His problem solving and action was incredible. I've met a lot of plumbers, but I wish I met more Ryans.
Sanjeev Kumar

Call them up this morning and they came the same day and fix our tap which was o ring was damage. Thanks to ryan for his service and the team.
Melbourne Australia Tours

On time efficient great communication would highly recommend fusion plumbing from start to finish was great workmanship.
Damien Grima

We are very grateful for the efficient and seamless service provided by Ryan today - highly recommended!
Charlene C

Kevin was an absolute God send. Great communication great knowledge and professional.
Zac & Lexie

Ryan from fusion plumbing is genius. He came quickly and fixed our shower in minutes. I recommend this service for their quick and fast action.
Harpreet Kaur

Had a leak coming up through the floor. Plumber sent to our home immediately to help investigate the issue, and provided us a number of options of how to fix it. Honest pricing and very professional service. Even helped fix a number of other smaller issues without additional costs. Will definitely use these guys again.
Andrew Lin

Thank God for Ryan. He did an absolutely fantastic job to fix our plumbing issues at home. Surely going to recommend Fusion plumbing service to family and friends. Thank you 🙂🙏.
Anu Farrell

Amazing and responsive service they have installed our laundry tub at an old investment property with only 24 hours notice professional service and done the job right. They always clean up after as well. Hired them twice and was happy with their price and service everytime. Would definitely use them again. Recommended them to my family and friends already.
Mina Hanna

Called these guys out to my house to look at a sewer problem, it had become worse over recent weeks, toilet & bathroom was effected. They went above & beyond to find the source of the blockages which end up being in 2 different areas, showed me the footage of the blockages on the inspection camera before & after they had cleared them. Great result, guys were easy to get along with & very experienced in what they do.. I am very happy with the service & price & highly recommend..
Peter Aquilina

Very friendly and thorough in his work. Highly recommend.
Isabelle Moutia

Very professional, friendly, punctual, polite with excellent business attitude. I highly recommend Fusion Plumbing to anyone requiring any plumbing services.
Eddie Alley

Great friendly service, arrived within an hour of calling up . Sean is a great tradesman, honest quality work at a very reasonable price. Highly recommended.
Ann Hughes

The team at Fusion can be only be rated 5 stars. After a little accident in the backyard where some pipes were damaged the team here were responsive and accommodating. I called through 6 different plumbers in the area and these guys took the job had someone onsite almost straight away. Job was done shortly thereafter. Price for the service was absolutely worth it whilst not burning a hole in the pocket. Would highly reccommend for someone needing a contact on the go.
Mining Ninjaz

Kevin and Andy from Fusion Plumbing are the perfect team. They helped me out of a bind last Saturday when another plumber (after booking the job a week ahead of time) left me high and dry. They were on the job within an hour of calling them, and went to great lengths to make sure of a job well done! Without a doubt, I would recommend them to all my family and friends, and call them again in a heartbeat the next time I need a plumber. Thank you Fusion Plumbing!
Joyce Baltah

As I am unable to write another review, Honestly best plumbers i have ever dealt with, they have done 3 jobs for me so far and i will not be going to anyone else. Kevin is so professional, very responsive, very affordable and overall someone great to deal with. All the jobs they have done they did a great job were very clean and very friendly. I cannot recommend these guys more 🙂
Marina Moussa

Fantastic service and very responsive - Called this morning with a leaking pipe in the kitchen and they were out here ahead of schedule and got it fixed and cleaned up in no time. Very friendly and professional and overall an excellent value service - Would def use them again and recommend!
Vanessa Abraham

Top company! Tried to find a honest company to look after my grandparents plumbing issues without being ripped off and was extremely happy with all aspect of works. Came out same day as well. Highly recommended!
Frank

Kevin Kelly responded quickly to our request to fix our gas boosted solar hot water system. His plumbers were professional and communicated well, as they did the work to replace the solar controller and pump, which were about 12 years old. I respected the way Kevin supported my decision to source the replacement parts online.
Mark Chilton

excellent service highly recommended. couldn't recommend them enough! The plumber that they sent was on time, done his job properly the first time and didn't muck around with quick fixes that would last two minutes and cost for them to come back to upgrade. was informative and showed you every step of the way what and why things needed to be done, and how best to achieve the result for long term sensibility. highly recommended! thanks for the great service. full customer confidence here! five stars wasn't enough!
holly dalley

We called Kevin in the morning for an urgent issue and one of his boys was there in no time. Very professional and friendly, he even took his shoes of before coming to the house and he cleaned when finished. Highly recommended!
Daniela Arndt

I want to acknowledge the excellent work Nathan from Fusion Plumbing did at my place last week. He more than deserves to be singled out for his friendly disposition, hard work, and skill. He did everything he said he would do, only better, including cleaning up the lawn where he was working. Great service! Thanks.
KEVIN C

Professional, cost-efficient, transparent and fair dinkum. I spoke with Kevin over the phone, he asked clear and appropriate questions, before scheduling someone to come clear the blockage. Nathan did an excellent job fixing the problem, within a 10 minute initial assessment he was able to locate the blockage and the best method to clear it. The job was completed in under an hour. I elected to use the camera, in order to discover the cause (tree roots), and ensure that the entire system was clear. Fusion are honest, don't waste your time, and offer competitive, fair prices. Highly recommend.
Dianne Villaret

We had a great experience. Prompt to visit site & quote. Written, professional quote with scope (no misinterpretation of requirements & hidden extras). Great, knowledgeable plumbers who did the job. Thanks Fusion!
Kezza Pro

Had very good experience and service. Nathan removed the old taps and installed the new one with great idea to ensure it is easy to maintain, very professional and efficient job. Highly recommended.
David Sun

Amazing professional and friendly service!!! Will be using again in the future.
Dylan Dissanayake

Shaun is very professional, reliable and did a great job checking the leakages. Very thorough with the checking and great with explaining the issues. Great service. Highly recommend this company. Regards, Lydia S.
SleepyGirl 2015

Have used Fusion several times. Always prompt, always get the problem fixed. Had a blocked drain during Christmas holiday period. Called Kevin, he came to my house within an hour and worked in the heavy rain to fix the problem. Good guys.
frank coogan

We had a leaking water regulator at the water meter. Fusion Plumbing were on site with in 2 hours of my phone call. Fantastic prompt service!!!
Malcolm Pizzey

Called with a Friday afternoon special. Was given an approx. quote over the phone and had someone arrive within 30min. The guy who arrived was friendly, professional and helpful. Highly recommended!
Brendon Fitzgerald

They came so quickly much quicker than cops lol and fix everything in reasonable price!! Loved their job awsome guys.
Osama Naeem

I found the plumbers to be very professional at their job. I have had them on a few occasions and they have always arrived at the time they have said they will be there. They were very reasonable with their pricing. Would highly recommend them to anyone.
Kim Owen

I have used Fusion plumber's for years. They are reliable, efficient and always do a fair price. I highly recommend doing business with Kevin and his team.
Emmanuel Vassallo

Hot Water System blew up and Fusion were there within 30 Minutes. Removed old System and fixed poor workmanship from last plumber at a great price! Thanks again!!
Campbell Marshall

Fantastic service from the guys - worked tirelessly to get the best solution for a great price. Went the extra mile and it didn't go unnoticed - highly recommended!
Tim Lynden

Highly committed and offered reliable and great service. I strongly recommend this company to anyone requiring plumbing services . 5 stars.
Ryan T

Very happy. Came out quickly and fixed the issue. Great servive
rebecca bailey

Very happy with the service from Fusion. Professional and punctual. Nathan did a great job.
Sharon Cardy

Lads did a nice, clean and professional job on my property. Will definitely use them going forward. Nice work!
Theodore Kassis

Fusion plumbing provided a quick and efficient service and at a reasonable price. I will certainly be using them again.
Carl Keighran

I Can highly recommend Fusion Plumbing for all your plumbing needs.
Jenny Anestoudis

Very great service & help, especially thankful as we had a new BBQ & needed expert help to get it going properly. Highly recommend.
Peter McKenzie

Great service. Glad I found them.
Dave Annesley

Awesome and very professional service by Mr Ryan.
RazZ EyE

Very prompt, professional and a honest service.
Vivek Hebbar

Great service quick and efficient. Would recommend.
Daniel Gardener

Fast and effective with honest people doing the job.
Akashdeep Kang

Replaced and Re-connected our Stormwater pipe. I would highly recommend to anyone. I would have no hesitation in using their services again. Great Work.
Jane

Good job.
Ba La
Why Choose Fusion Plumbing?

They're messy > we're not!
We have years of experience


Free quotes with no obligation

Solutions that are up to date


We provide emergency call-outs 24/7