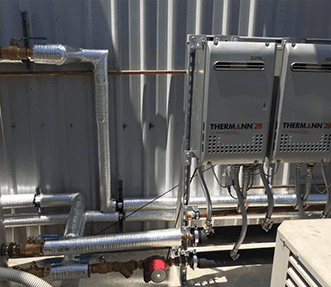 If your hot water has run dry and you need help to determine the cause; you are renovating and need to upgrade your old system; or you're building new, and you're looking for the most efficient level of hot water for your property of choice, we can help.
At Fusion Plumbing, we have experienced plumbers who can provide a full range of hot water systems and services, including repairs and replacements, upgrades, installation and servicing.
Types of Hot Water Systems
At Fusion Plumbing, we have experience working with four types of hot water system: gas, electric, solar and heat pump systems.
Electric hot water systems are the most popular type and are most common in Australian homes and businesses. They're available in various sizes and efficiencies. Problems with electric systems often include thermostat failures, switches or elements that are not working properly, or power issues.
For gas systems, we provide full installation and supply of gas storage and continuous gas systems. Gas hot water systems use a gas burner instead of an electric element to power them. They are often smaller in size compared to electric, and they are more energy-efficient. Continuous gas systems are economical and ensure you are never without hot water, providing hot water only when the tap is turned on.
The most energy-efficient type of hot water system operates on solar. Although they aren't generally 100% solar-powered, as they do need backup electricity as well to run, they can save you around 70% of the water heating expense on your energy bills. Solar hot water systems are smaller than electric and gas, and you can add extra PVs if you want to increase efficiency.
These systems take moisture from the air to heat up the water in the tank. While they are effectively electric, they are much more energy-efficient. This makes them more expensive, and the heating process means they produce more noise. Common problems include fluctuating temperature (too hot or too cold), and component failure on the circuit board.
Which Hot Water System To Choose?
The four systems mentioned above all have benefits and work differently for different environments. Electric systems provide better heat at night or on cloudy days than solar systems, but the systems are much larger and take up more space. Gas systems are cheaper than electricity; however, LPG can be expensive. Solar systems have low running costs, but they require an expensive setup of solar panels. Heat pumps require open space and they can be noisy, but they are cheaper to run.
If you're not sure which system suits your property the best, the team at Fusion Plumbing can assist with expert advice.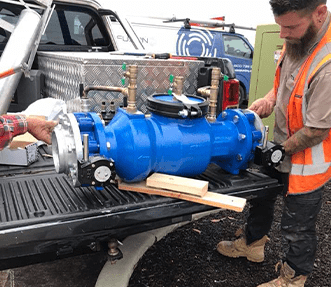 If the hot water in your home or business isn't working properly, Fusion Plumbing can help. We provide hot water repair services for your system. If you have no hot water, too much hot water, strange noises, a bad smell or your hot water system is showing signs of damage, or if you have had it for a number of years and it's simply not working like it used to, call our qualified plumbers to come and take a look.
Don't leave your hot water system in disrepair as this can lead to further damage or it may stop working altogether. We will fix any problems as soon as possible. Our emergency plumbing also covers hot water systems, so if you need urgent repairs, get in touch right away.