Commercial and industrial plumbing requires different skill sets than residential plumbing. Commercial and industrial plumbers are required to be able to handle large projects with the help of their teams. And that is why it's important that you hire a reliable plumber like Fusion Plumbing for your commercial or industrial plumbing needs. Whether you need a commercial waterline replacement, an industrial pipe bursting, drain cleaning or a complete plumbing system installation, we will take care of it for you.
Our Commercial Plumbing Services
At Fusion Plumbing, we provide a full range of commercial plumbing services in North West Sydney to ensure your building is operating efficiently. No job, or building, is too big or too small for our experienced plumbers and we can arrive on-site to assist with any plumbing services you might require.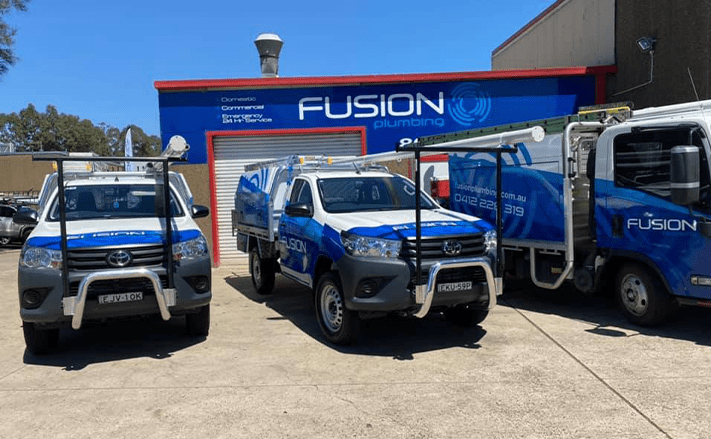 Many commercial buildings were built decades ago, some longer, and as such you might find the plumbing is working as well as it used to. Old age can lead to broken or leaking pipes, which in turn can lead to structural damage within the building itself. This is dangerous for the foundations and the people who are working inside. If your building hasn't been tended to in a few years, it could be time for an upgrade. Our team can assess the current pipes and drainage to see if there are any risks, and we can provide upgrade solutions where necessary.
If your commercial building has more than one level, drain use is particularly important. Flushing toilets, showers, and taps could have hundreds of people using these every day, and much of the time, you don't know what is going down those drains. Someone washing oils down the kitchen sink on level 10 can create problems for the people on level 4 who have been stuffing leftover vegetables through the gaps of the drain. Together, these two items can clog the drains and pipes, creating problems for the entire building. Although commercial building pipes and drains are sturdier than those you find in the home, clogs are still one of the most common call-outs we receive, and the process is often a complex one, particularly on multi-storey buildings.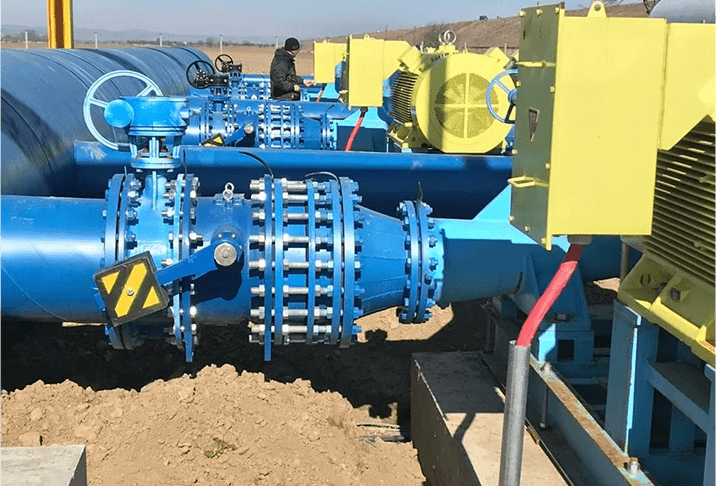 Hot Water Systems
Commercial water heater systems are much more complicated than home hot water systems and if they are not installed or serviced properly, they can be extremely dangerous to the property and the people within it. While hot water systems at home are generally small tanks that operate on solar, electricity, gas or heat pump technology, commercial systems are much larger in size and placement, and installation is much more complex. This is particularly the case for multi-level buildings. If problems occur, it may not be a simple fix to ensure the entire building is running efficiently, so it's best to call our professional plumbers to assess and repair any faults.
Repair & Maintenance Services
Commercial plumbing systems require regular repairs and maintenance to ensure they are operating to their full potential. The professionals at Fusion Plumbing can come to your office building to assess any problems you might be having. We will be able to find the cause and recommend solutions. We'll provide you with a quote before continuing and can then complete any repairs. Commercial buildings also require long-term maintenance, including checking water pressure, assessing active or previous leaks in pipes, testing the drain lines and ensuring all plumbing fixtures are fully operational. We provide full commercial building plumbing maintenance services, and we recommend doing this at least every six months.
Our professional team is available 24/7 for commercial plumbing services in the Blacktown region. We are your local plumbing industry experts. Now that we've covered everything about our commercial plumbers, let's talk about our industrial plumbing services!
Our Industrial Plumbers Near You - Fusion Plumbing
As a manager or owner of an industrial facility, you need to take care of the property and the tenants or workers within it. Site maintenance is imperative to ensure your building is safe and efficient. That said, industrial plumbing is much more complex than residential, with higher grade pipes and fixtures required, wide-scale plumbing solutions and a greater risk of damage.
At Fusion Plumbing Blacktown, we provide industrial buildings with full plumbing services that are tailored to suit every building use, from warehouses to pharmaceuticals, car workshops to food processing.
Our Industrial Plumbing Services
We have worked with a number of industrial clients across the North West Sydney region, providing a variety of services. One of the most common reasons we are called to industrial properties is to unblock drains. Industrial facilities, in particular, use chemicals and oils that can cause blockages. These generally require great force to clean, so we use a high-pressure water jet for efficiency.
We also:
Repair broken pipes, and offer drain inspections
Install new plumbing systems, fittings and fixtures
Repair cracks and bursts, leaks and drips
Detect leaks
Complete full plumbing and pipe inspections
Install, repair and test fire sprinkler systems
Provide backflow protection
Provide routine maintenance
Install, repair and maintain hot water systems
Install fire hydrants and hose reel systems
Service and install pumps
Provide and install sensor / hand-free washroom facilities and tapware
Install urinal flushing devices
Install showers and other staff amenities
Install Drinking fountains
Fusion Plumbing also provides a range of other services, including jet blasting, thermostatic mixing valve installation and tests, valve testing and replacement, oil and water separator installation, stainless steel piping systems and CCTV pipe inspections. We are also licensed in gas fitting and can complete all gas installation and repairs. Our work adheres to the Australian Gas Standards.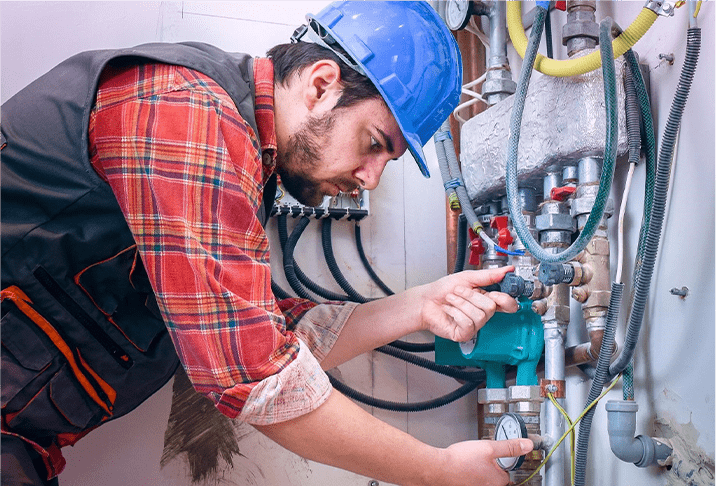 If you're in the process of building a new industrial property, we can assist with installation and supply of a range of products. This includes water pipelines, natural gas, LP gas, sewer drainage systems, stormwater management systems, manholes for sewers or stormwater drains, and hot water installations. We can also assist with design and installation of wash bays, toilets and tapware, disabled bathrooms, fridges and laundry tubs, grease traps and insinkerators, even commercial coffee machines and water filters!
In fact, when it comes to water, there's not much we don't do!
Emergency Industrial Plumbers
If your business is experiencing an emergency plumbing problem, such as leaking pipes, clogged drains, hot water systems that aren't working, and gas leaks; we can assist. Our emergency plumbing professionals are available 24 hours a day, 7 days a week. Don't let your "small problem" become a big problem. If you require hot water fast, or you want to stop water from damaging the foundations of your building, call us right away.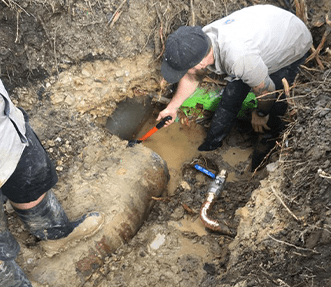 Get A Quote - Call Fusion Plumbing in Sydney
So, go ahead and call Fusion Plumbing for quick and hassle-free plumbers for commercial & industrial services. We have the right plumbing team for your commercial and industrial needs, including 24/7 emergency service, drain cleaning, sewer line repairs, pipe replacement, water heater installation and repair, sewer line replacements, water main installation and repairs. No matter how large or small your commercial or industrial construction project, we can help you with the most cost-effective plan. So, call us now!