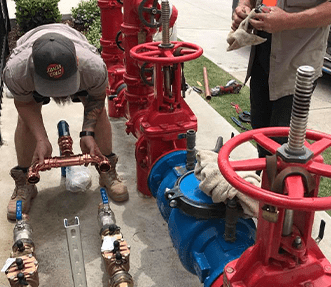 Australia is a lucky country, especially when it comes to the water sanitation systems in our major population centres. Our water is among the most reliable and the safest in the world, which gives us all access to potable water without worrying about contaminants getting us sick. Our high quality of water is partly due to our regulations for the prevention of water backflow.
Backflow is when water that is potentially contaminated flows in reverse, which could cause water-borne illnesses by mixing with potable water. Backflow would most commonly happen when there is a drop in water pressure outside the property such as during a main break, or the water pressure inside the property is higher than it is at the main, like if there is a water pump operating somewhere onsite.
At Fusion Plumbing, we provide backflow prevention services across the Blacktown region to keep your water safe.
Backflow Prevention Device
A backflow prevention device is required to be installed on any property that has any type of contaminated or polluted plumbing on the premises, or water that could accidentally pollute the on-premises water supply. To ensure local drinking water supply can't become contaminated by cross connections caused by on premises hazards, installation of a backflow prevention device is required to stop all water from flowing back into the local water supply.
All properties that are directly connected to the local water supply must have a backflow prevention device installed applicable for the hazard rating set out for the premises by the state legislation. While installation, testing, and maintenance of backflow prevention devices should always be done by a licenced backflow plumber, it is still quite crucial that anyone who has these devices installed completely understands how backflow prevention works, as well their legal responsibilities.
Our fully qualified team of tradesmen at Fusion Plumbing have all been explicitly trained to install and repair all types of backflow prevention devices for both residential and commercial applications, as well as providing a comprehensive range of backflow prevention services throughout Blacktown and the surrounding area. All boundary backflow prevention devices must also be checked and tested annually to ensure compliance with Australian Standards, so our staff are also fully accredited to carry out these tests.
We ensure these tests are conducted in a timely manner before we forward all required results and paperwork to your local government department. We can also set you up in our system for annual testing so that you never miss a test for the backflow prevention devices or receive a fine.
Licensed Backflow Prevention Services
Our fully licensed backflow prevention specialists at Fusion Plumbing have years of experience with all types of commercial and residential devices. Whatever your backflow prevention device requirements are, Fusion Plumbing are fully qualified, reliable, and provide the highest level of 5-star service at reasonable rates.
Our professional team is available 24/7 for all backflow prevention jobs in Blacktown and surrounding suburbs in North Western Sydney. We are your local experts with backflow prevention devices, so you can rest easy knowing the job has been done right.