What is your plan of action usually when you come across plumbing problems at your home? With many DIY videos on the internet, your first step towards the problem is probably trying to fix things yourself. After all, DIY plumbing is an efficient and inexpensive alternative to hiring a licensed plumber. However, DIY tasks concerning plumbing jobs, whether as effortless as broken kitchen pipes, bathroom leaks, or clogged toilets, can put you and your home at risk and even magnify the problem. That's why you should hire a professional, trusted plumbing firm like Fusion Plumbing in Minchinbury.
We are the leading plumbing experts in Minchinbury
Fusion Plumbing is located near Minchinbury. We are one of the best plumbing services providers in NSW. With over more than a decade's experience, we have accumulated the necessary skills and knowledge to solve any plumbing issue that comes our way.
We offer various services, including emergency, blocked drains, LPG and natural gas fitting, pipe laying, leak detection, hot water systems, pimps and irrigation, backwater flow and new home plumbing. We offer an honest and reasonable cost for our plumbing services. We provide quality services because our goal is to achieve high customer satisfaction.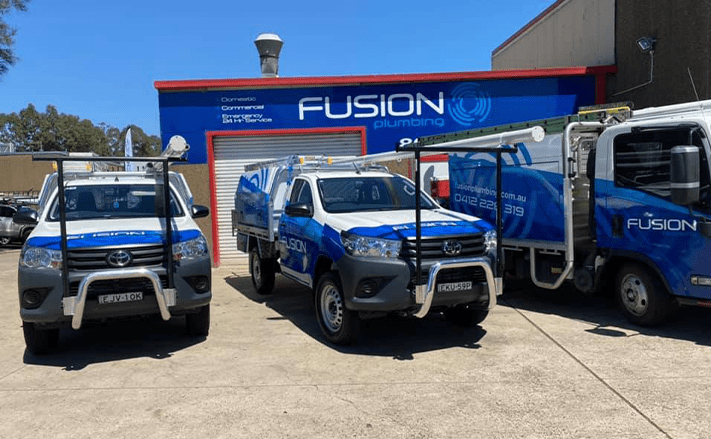 Try our 24/7 emergency services in Minchinbury
One of our best features is our 24/7 emergency services near Minchinbury. We extend our plumbing services to different sectors, such as residential, industrial and commercial. We respond fast, and we work efficiently. With our vast experience in the industry, we can provide great solutions. We provide free quotes with no obligation. Our services are impeccable, reliable and durable. We also help fix leakage sewerage systems which can be hazardous if it starts mixing with drinking water. If your property is at risk, feel free to call us 24/7, we are more than pleased to be of service.
This is why you must hire our licensed plumbers in Minchinbury. Our plumbers have completed training and obtained certifications, guaranteeing their knowledge and expertise in the field. Homeowners should hire professional licensed plumbers instead of doing the plumbing work themselves for safety reasons.
Benefits of hiring our plumbing services in Minchinbury.
We prioritise safety: Plumbing work can be challenging and dangerous. Homeowners, who practise maintenance work themselves, usually do not use any protective gear. Hence they are more exposed to various biohazards and contaminants. Broken water heaters, pipe and sewer problems are hazardous for an average homeowner to repair. Our licensed plumbers are very knowledgeable of the safety precautions and the protocols needed when dealing with plumbing problems. We also have the proper tools, latest equipment and protective gear to efficiently and safely finish the job.
We can help you save money: Homeowners who try to repair their plumbing issues often underestimate the issue at hand. They generally spend more time solving the problem than licensed professionals as they don't possess the knowledge and skills. It becomes more expensive if they make an error and make the issue worse. On the other hand, our licensed tradie will thoroughly examine your plumbing and adequately identify the root cause of the issue, which the homeowner may have missed. We can also provide you with professionally put-together cost estimates and materials lists so that you would know the actual expense and where it has been spent. We also do proper installation and repairs, avoiding future potential problems.
For all plumbing issues, contact us at 0412228319 or visit us near Minchinbury.