With a mixture of residential and commercial businesses, the need for quality plumbers in Blacktown NSW is essential. Fusion Plumbing Blacktown provides quality plumbing in Blacktown and beyond for all property types, including clogged drains, pipe repair, roof and gutter leaks, water leak and gas repair. They are reliable and professional plumbers, gasfitters and drainage specialists, providing quality workmanship and fast, reliable service.
Emergency Plumbing Blacktown
If your toilet won't flush, your home or office starts to flood, your taps are leaking or you have no hot water and it's time to bath the kids – you need an emergency plumber! Fusion Plumbing provides emergency plumbing Blacktown, fixing a large number of problems. Our experienced professional Blacktown plumbers can assist with overflows due to clogged drains, leaks and burst pipes, problems with your hot water system, leaking sewerage systems, stormwater drain overflows, kitchen plumbing and much more. If you have a plumbing emergency, don't wait until morning or Monday. It doesn't matter what time of day you need a trusted plumber, we're available 24 hours a day, 7 days a week to assist.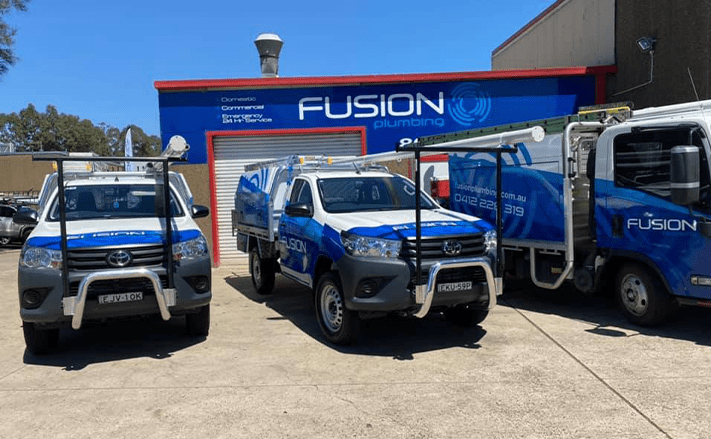 No one wants a blocked drain! Blocked drains can wreak havoc throughout your home or commercial property, causing flooding which can in turn potentially lead to problems with mould. And if it's a toilet blocked – it can also create a health hazard. If your toilet isn't flushing, your water isn't flowing down the drain fast enough, or you're experiencing an overflow from your stormwater drains – we can help. Blocked drains can be caused by a range of issues, from hair in your bathroom to grease and oil in the kitchen sink, someone trying to flush nappies, to trees and leaves creating roof and gutter leaks. And they can occur at the home, workplace, industrial shed or the office. If you need help to fix your blocked drains in Blacktown, Fusion Plumbing is just a phone call away.
If your water isn't running as clean as it should be, it could be that you are experiencing what's known as backflow. Backflow is when the water starts to flow in reverse, which can create health problems; and it's generally caused by a drop in water pressure outside the property, or if the water pressure increases inside the property. If you have problems with your backflow, our local plumber team is experienced in backflow prevention Blacktown and can install a backflow prevention device to stop any contamination.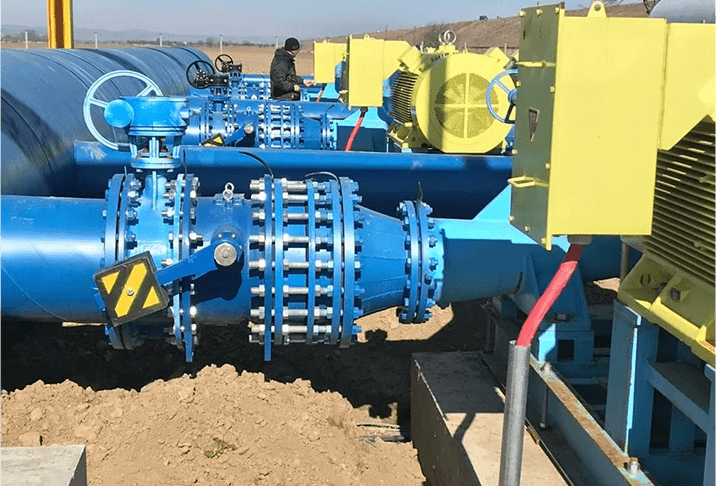 Pumps & Irrigation
At Fusion Plumbing, we know how important it is that your pumps and irrigation systems are working effectively, including your rainwater harvesting systems, solar hot water systems and trade waste management systems. Your pumps, like your bore pumps, usually play an important role in your irrigation system functions and our team are able to supply, install and service top quality pumps. Our pumps and irrigation Blacktown plumbing team won't let your precious water go to waste!
Residential Plumbing Blacktown
At Fusion Plumbing, we've been servicing the region for many years. We know the local area, and we work closely with residents to complete all types of plumbing services Blacktown region. Our residential services include replacement of old pipes and drains, particularly in older homes, to prevent leaks; and renovation re-routing – which includes cutting into your pipes and capping them into the new space required. We also complete drain cleaning, which we recommend for maintenance; fixing clogged drains and ensuring your plumbing systems are fully operational; pipe repair as required; and we'll fix any problems with your toilets and sewers. Not only that but if you're having hot water problems, we can take care of your hot water system; and complete full maintenance and inspections. And if you have a water emergency, we're available 24-7. Get in touch with the Fusion plumbers in Blacktown today to take care of your plumbing systems.
Commercial Plumbing Blacktown
The team at Fusion Plumbing Blacktown are specialists when it comes to commercial plumbing. We provide a range of plumbing maintenance and installation services to ensure your commercial building is operating at its best capacity. Services include plumbing installation for new builds, fitouts and renovations; as well as full plumbing upgrades – which are ideal if your building is over 10 years old. When it comes to commercial buildings, drains are probably one of the most important things to keep in check, and our commercial plumbing in Blacktown caters to all drain problems, regardless of if your building has one level, or 20 levels. We can also ensure your hot water systems are operating effectively throughout the entire building and provide full repair and maintenance services. Get in touch today to discuss our upfront price and call out fee and to ask for a cost guide. We're more than happy to discuss our licenses and insurance with you, and we pride ourselves on our efficiency and professionalism.
Industrial Plumbing Blacktown
When it comes to our industrial plumbing Blacktown clients, we provide a specialised service that's tailored to suit. Industrial plumbing isn't black and white. It's a lot more complex than residential plumbing services, with high-grade pipes and fixtures. If your industrial plumber doesn't know what they are doing, they could cause more harm than good. Thankfully, our professional Blacktown plumbers are experienced and trained in industrial plumbing and we've worked with clients in a full range of industries, from car workshops to food processing. Services we can help with include unclogging blocked drains, repairing pipes and attending to hot water heater problems, installation of new plumbing systems, pipe relining, detecting and repairing leaks, installation of fire sprinkler systems, backflow protection, installation of pumps, and full plumbing and pipe inspections. We can also assist with leaking taps, toilet repair, gas leak and leaking pipes, water filters and rainwater tank assistance, gutter leak and general maintenance plumbing.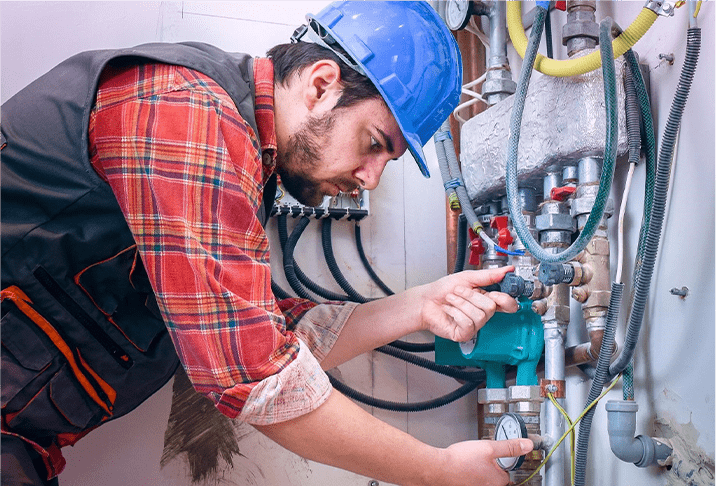 New Home Plumbing Parramatta
One of the most important aspects of your new home build is your plumbing and if you don't have a good quality plumber on board, it could end up costing you money (and time). Our new home plumbers Parramatta ensure all the new pipes and drains are fitted properly and go to the right place. We'll make sure the plumbing is not only up to Australian standards, but that it fits well with your dream home's design. We can provide and install septic systems, stormwater drains, sewer extensions, hot water systems and gas services. We can also incorporate your kitchen, bathroom and laundry plumbing; and configure your rainwater catchments and storage, as well as your gutters and downpipes.
Whether you've opted for solar hot water, heat pump systems, electric or gas hot water, we can not only install your system, we can also provide upgrades and repairs. We have access to a range of superior quality hot water systems Parramatta, from the best-known brands. We can provide advice on the best system to suit your requirements, and install these at your home, office or industrial building. We understand hot water systems and we know each type has its own benefits. We also provide hot water systems repair, so if you have too much hot water, not enough, strange noises coming from the system, or your system shows signs of damage, give us a call.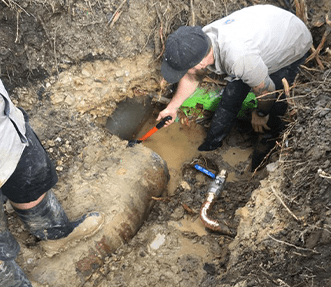 Leak Detection
The worst thing about a leak is that more often than not, you won't know it's there until it's too late. Either your bathroom starts flooding, you notice large patches of harmful black mould on your roof, or the insides of your cupboards start to disintegrate. Once you have noticed any problems, leak detection is a great way to find the culprit – so our leak detection Blacktown team can start fixing it. Leak detection checks, when performed regularly, are also a great way to ensure your home remains safe. Leak detection will help to prevent a leaking toilet, leaking taps, burst and leaking pipes, leaking showers, gutter leak and more. If you can't wait til Monday, call an emergency plumber from Fusion Plumbing – we're available 24 hours a day, 7 days a week to tend to any problems with your plumbing systems.
When working on a new construction project, the pipe laying part of the process is the most critical. There are often challenges that present themselves on every project, whether residential, commercial or industrial. By hiring professional pipe laying Blacktown contractors though, you can ensure the quality of the work is superior and that the pipes are durable and correctly fitted. At Fusion Plumbing, we provide a range of plumbing pipe laying and pipeline services and solutions.
LPG & Natural Gas Fitting
If you require gas to be fitted at your home or workplace, it's important to never attempt to do this yourself. For the team at Fusion Plumbing, no gas fitting Blacktown job is too big or too small. From swapping your old gas hot water system for a new one, to converting a gas bottle to run on mains natural gas, or running a new line for your gas heated pool – we can do it all. We're leading experts in gas repairs, gas fitting and other gas-related issues, providing top quality, first-class service every time.
Why Choose Us For Plumbing Services Blacktown?
Why choose us over someone else for your plumbing services Blacktown? Fusion Plumbing Blacktown has years of experience working with local residential, commercial and industrial clients. We respond fast, we're efficient, and we provide solutions that are up to date. We know the local market and the plumbing industry and we keep on top of the latest technology and industry trends to ensure you're getting products and service that is top of the market.
At Fusion Plumbing Blacktown, we provide free quotes, no obligation; great rates on services; and we're available for emergency call-outs, 24 hours a day, 7 days a week!