If your pipes are playing up, you could be at risk of backflow – which is when the water starts to flow in reverse. This leaves your potable water at risk of contamination, and if that happens, it can create major health problems for anyone who might drink it. If you want to prevent backflow, there are a range of products available – and the team at Fusion Plumbing can ensure you get the system you need. We will install, test and maintain backflow prevention devices to ensure your water is safe to drink. Our team are fully licensed backflow prevention specialists with many years' experience in both commercial and residential devices.
It doesn't matter if you're a residential client with a beloved garden or lawn, or a large agricultural business that relies on good pumps and irrigation to keep your crops healthy. At Fusion Plumbing, we are able to supply, install, maintain and repair all pumps and irrigation to your property. For irrigation, we're experienced in providing, installing and repairing everything from subsurface style drip systems, to fertilisation pumping, septic systems to triangle filtration systems. Don't leave broken irrigation and pumps to repair themselves – it won't work. Our specialists have fast access to new systems and spare parts, so we can help if your irrigation or pumps start failing.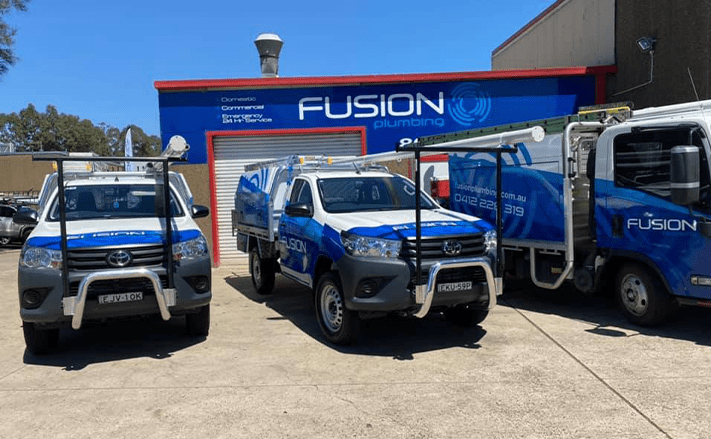 Solar, gas, electric or heat pump – it doesn't matter what type of hot water system you have at your home or business, we can help if it's not working as it should. Not enough hot water? Too much heat? Or perhaps you have noticed your hot water tank has cracks, a foul smell or something just doesn't seem right with it. Give the team at Fusion Plumbing a call and we'll assist with any hot water systems problems you might have. Building a new home or renovating the office and need a new system? We supply some of the world's best brands to suit.
When it comes to leaks, the last thing you want to do is leave them be if you suspect you have one. Whether it's a puddle of water that's come up on your front lawn, or you can see mould coming through the walls in your bathroom – if you suspect there is a leak, it's important that you have it taken care of as soon as possible. Has your water bill increased all of a sudden? Does something smell funny in the bathroom? Left unattended and a small leak can quickly become a big problem, creating mould, mildew and potentially structural damage to your property. We provide leak detection services in Baulkham Hills.
Why Choose Us For Plumbing Services Baulkham Hills?
At Fusion Plumbing, we work with residential, commercial and industrial clients across the Baulkham Hills region. We provide fast and efficient plumbing services and solutions that are up to date! Our extensive knowledge and our experience in the plumbing industry and local area make us the perfect choice for all your plumbing needs. Contact us today for a free, no obligation quote or if you need emergency plumbing services Baulkham Hills, we're available 24-7.
How much does water heater installation cost?
There are different types of hot water systems available to every homeowner. So depending upon the type of water heater you want, our plumbers in Baulkham Hills will give you a quote accordingly.
You can call Fusion Plumbing in Baulkham Hills for a quick and hassle-free installation of hot water systems. We supply branded water heaters, whether you want an electric water heater or a gas-powered one.
Get a free quote today!
Do you also charge for a site inspection and consultation?
Fusion Plumbing offers free callouts in Baulkham Hills. So you can call us anytime, and we won't charge you a dime for the callout.
We will provide you with a free quote in the very beginning, in which we will detail out the cost breakdown for our services, including inspection and consultation!
So call our reliable plumbers in Baulkham Hills today!
Do You Offer 24 hour Service?
Yes, of course, we do! Fusion Plumbing services are available 24/7 in Baulkham Hills and its nearby suburbs including any emergency plumbing solutions.
You can call us for any kind of plumbing problem, and our technicians will respond promptly.
Whether it's minor water leakage or a complex plumbing problem that needs immediate attention, our plumbers in Baulkham Hills are the people you want on the job.
Get a free quote now!
How much does it cost to replace sewage pipe?
It all depends upon the kind of damage that has been inflicted on your sewer pipes. Our plumbers in Baulkham Hills will visit your residence and inspect the damage properly.
Once we have a clear picture, we will give you a quote to replace the sewage pipe.
Bring the most reliable plumbing experts in Baulkham Hills to your home. Call Fusion Plumbing!
How much notice do I have to give if I want to cancel?
Our callouts are free of cost. So if you change your mind before our plumbers start their work, we won't charge you any fee.
Call us anytime if you want more clarification on this topic. Our plumbers in Baulkham Hills would love to answer your queries!
Does your company provide residential plumbing services?
Yes, we offer full-fledged plumbing services in Baulkham Hills to residential property owners.
Our plumbers can repair your burst pipes and water leakage and clean the clogged drains instantly.
And the best part about Fusion Plumbing? Our plumbers are available 24/7 in Baulkham Hills and nearby suburbs!