On occasions, DIY home plumbing tasks can help you save some cash. Many homeowners in Annangrove can repair minor leakage, running toilets, and clogged drains with the appropriate equipment. Local hardware stores can easily supply homeowners with the right parts and experienced advice. A homeowner can simply clean minor hair clogging from the bathroom and shower sink drains with the proper equipment that won't damage the pipes. Tightening loose taps with an appropriate twist is another simple home repair that a homeowner can do to avoid paying a qualified plumber. However, when it comes to more serious issues like blocked or leaking pipes, you need to contact a professional service like Fusion Plumbing which offers a 24/7 emergency hotline.
Fusion Plumbing is a reputed services provider near Annangrove. We are one of the top plumbing services providers in Annangrove and NSW. With over more than a decade's experience, we have assembled the essential knowledge and expertise to solve any plumbing problem that comes our way. We provide only the best services to attain high customer satisfaction. With our decades of experience, we have become highly knowledgeable in the industry and can offer great results for your plumbing issues. We provide free quotes with no obligation. We respond fast, and we work skillfully.
Fusion Plumbing offers a range of services
We offer numerous plumbing services, including emergency, blocked drains, LPG and natural gas fitting, pipe laying, leak detection, hot water systems, pumps and irrigation, backwater flow and new home plumbing. We provide services to several sectors, such as residential, industrial and commercial. Our best feature is our 24/7 emergency services. We will also assist you in fixing leakage sewerage systems which can be unhealthy if it starts mixing with drinking water. Our services are incredible, reliable and resistant. Be it gas leaks or other repairs, you can call us 24/7 because we are more than glad to be of service.
When protecting your home from water damage, you should leave most plumbing repairs to licensed tradies. They will effectively find and repair leaks, clear drains without damaging pipes, and connect gas lines safely. Professional plumbers are made to go through comprehensive training, different courses and years of on-the-job experience.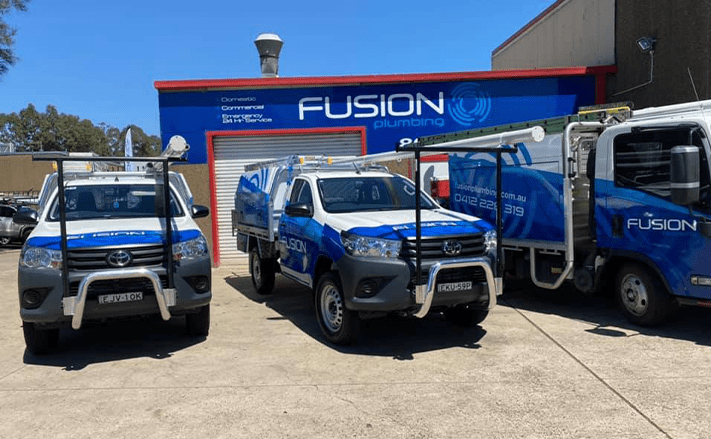 Benefits of hiring our plumbers in Annangrove
Emergency services: Who will you call if a pipe bursts in the middle of the night or your hot water system breakdown? You are more than welcome to use our 24-hour emergency plumbing services. Fusion Plumbing is here to solve your plumbing issues promptly before it causes more damage to your property. Our experienced and professional plumbers use a customer-centric approach which helps them achieve great results. Hence you can rely on our experienced, licensed professionals for any plumbing issues or emergencies.
High-quality services: You have access to a team of highly-qualified professional plumbers when you hire us. Our tradies possess years, if not decades, of experience in this industry. Our team can work with brand-new plumbing systems and enhance the plumbing in your home. We can help you if you are renovating your home and need advice on connecting new plumbing systems to the existing pipe. Due to the nature of dangerous waste in your pipelines, you could end up being hurt and cause damage if you don't hire professional plumbers who use the right equipment and protective gear.
For any plumbing issues, contact us at 0412228319 or visit us near Annangrove.