Every year, thousands of homeowners complain about blocked drains in their households. If not treated early, it may lead to more significant problems later. And it usually costs a lot of money to fix these issues. Therefore, it's recommended to call a plumber at the first sighting of such problems. It saves you a big chunk of money and is convenient for you and your family as well.
So, do you need plumbing solutions for your blocked drains in Glenhaven? We can introduce you to the best in the business when it comes to plumbing.
With almost 15 years in plumbing services, Fusion Plumbing is your ideal option for blocked drains and other plumbing issues. Our plumbers have undertaken hundreds of plumbing projects in Sydney, including Glenhaven. You can dial our number for residential, commercial, and industrial plumbing solutions. We make sure to provide top-quality and long-lasting fixes to your problems.
We recommend you hire our plumbing services in Glenhaven. You will get your money's worth and total convenience while our plumbers clear the blockage off your drains. So, let's see our intelligent approach below.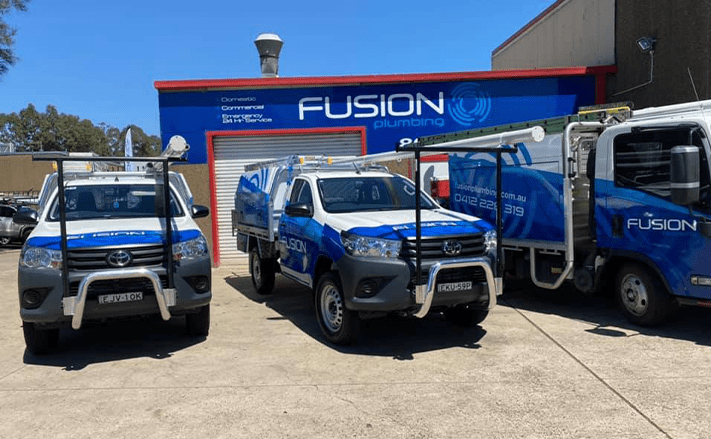 As mentioned earlier, there are many reasons behind a blocked drain. And it's crucial to find the root cause of it before proceeding with the solution. Otherwise, the same problem would recur after a few weeks. And you don't want this to happen. So, you should always hire a proficient plumber such as Fusion Plumbing in Glenhaven.
We can pinpoint the exact reason for your house drain blockage with the help of our advanced equipment. Our vehicle is loaded with all the technological equipment needed to find and clear the clogged drains in your house.
Hair:
We can't help brushing our hair in front of the bathroom mirror. However, we wash our hair strands through the bathroom sink while doing so. And this causes a lot of blockage in the drainage systems. Fusion Plumbing can clean these hair strands from your drains, sewers, etc., with various tools.
Oil & Grease:
We scrub and wash our dishes and utensils near the kitchen sink. However, when we do this, oil gets washed into the sink drain as well. And due to this, there can be a massive clogging of your drainage system. Similarly, grease gets washed into the drains of various workshops, which leads to clogged drains. Our plumbers can clean this mess up for you.
Sanitary Products:
Households with little children often throw their kid's wipes and makeup remover wipes into the toilet. However, unlike toilet paper, these products don't break that easily, causing a massive blockage in the bathroom drains. Fusion Plumbing can clear this blockage without much effort.
Apart from the ones mentioned above, there are other things which lead to blocked drains. Fusion Plumbing can repair pipes if the problem is in the foundations. Therefore, make sure to call our plumbers whenever you are facing clogged drainage issues in Glenhaven.
We provide emergency 24/7 plumbing services.
Availability of fully licensed plumbers.
A fully equipped vehicle with modern tools and equipment.
We provide unbeatable quotes.
You will find reasonable prices for our services.
Quick response time.
You can call us right now on our phone number – 0412 228 319. Also, visit our website to know all the details of what we do and what we offer to Glenhaven customers.