Never ignore the early signs of blocked drains. Over a while, the drainage systems in our households get blocked due to one or more reasons. And sooner or later, you will see the effects of such a phenomenon in your sewer pipes. You will either observe a slower water flow than the usual or smell a pungent smell coming out of your sink and toilet areas.
Not only does it obstruct your day-to-day work routine, but it also puts a risk to your health. And you don't have to clean the blocked drains on your own, although you can try so. It's always the right thing to call an expert plumber for cleaning clogged drains in Bella Vista.
Fusion Plumbing - Always Ready To Clean Blocked Drains
We began our plumbing services in the Sydney region, including Bella Vista, back in 2006. Over these years, we have undertaken hundreds, if not thousands, of drainage cleaning projects in your locality. We clear the blockage from the sewer pipes and educate our customers on preventing such bottlenecks in the future. We have become the leading plumber for blocked drains and other types of plumbing problems in the area. And to top it off, you can acquire all our services at the best market price in Bella Vista.
So, do you need a plumber to remove the blockages right now? Call us and hire our licensed plumbers without any hesitation.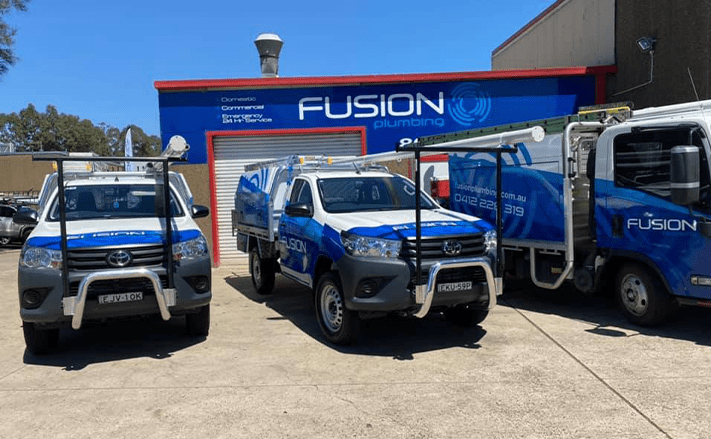 Emergency Service - Available 24/7
There may be times when you'll be peacefully sleeping, and some plumbing issue will disturb your sleep out of nowhere. Plumbing and waterproofing emergencies can wake you up in the middle of the night. And in some cases, you can wait for the next day to call in a plumber. However, in other situations, you have to dial in a plumber immediately. Otherwise, the condition may take a turn for the worse and cause you severe problems down the line. So, never avoid calling in a plumber for your clogged drains cleaning in Bella Vista.
We are just one call away from reaching your house and cleaning all the blockages from your pipes. Our plumbers will arrive at your home or commercial place within a few minutes of your call. Yes, that's how quick we are with our responses. That is why the residents in Bella Vista trusts Fusion Plumbing with all their plumbing needs.
Long-Lasting & Comprehensive Solutions
While dealing with blocked drains, it's crucial to provide long-lasting solutions for the problem. Otherwise, you will experience the same pain a few months down the line. However, when you hire Fusion Plumbing, there is no room for such concerns. We have years of experience in detecting and cleaning blocked drains in Sydney, including Bella Vista. Our highly skilled plumbers will make sure that your blockage is eradicated.
We can collect and remove the hair strands that block the normal flow in your sewer and drainpipes.
Similarly, there are chances that your blocked drains are due to oil and grease accumulation. But don't worry, we will clean and filter it out as well.
Our plumbers can remove the food remnants and leftovers that people usually wash down the drains. It's a terrible practice and leads to significant problems down the line.
Do you always flush baby wipes down the toilet? If yes, then it might be the reason for blocked drains. We will remove all the sanitary products from your sewer pipes without any difficulty.
So, call us today and experience the most professional plumbing services in Bella Vista. And that too for the most reasonable price in the market. We make sure that there are no hidden charges when you hire Fusion Plumbing for cleaning blocked drains. Please hurry up and engage our fully licensed plumbers right now!